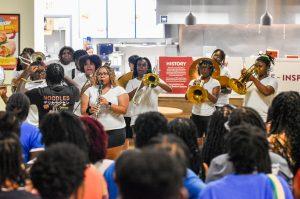 NEW ORLEANS (August 30,2023)– Approximately 300 new persons, including transfers moved onto Dillard's campus to start their Bleu Devil journey on Aug. 9 according to Dr. Courtney Williams, the director of student engagement and leadership. 
The new students have shown an excitement and high energy that hasn't been on campus since pre-COVID years, expressed Dr. Courtney. "They're excited and ready to get involved."
SOAR Week commenced on Wednesday, Aug. 9 with move-in for new students and continued through Sunday, Aug. 13. On the second day the new students were officially welcomed to the Oaks with the remaining days dedicated to showing them the intricacies of Dillard while incorporating the University mandated cool down's from 10 a.m. to 5 p.m. due to excessive heat. New students were able to meet faculty, student leaders and alumni prior to the start of classes.
Due to the excessive heat, instead of hosting SOAR events during the day there were late night SOAR events such as: bowling, a casino night and silent disco.
Returning students began moving in on Friday, Aug. 11 while adhering to the mandatory cool down, so move-in began at 6 a.m. and ended at 10 a.m. then began again at 6 p.m. Welcome Week, intended to create a sense of being and community amongst students, began Sunday, Aug. 13 and continued through the first week of classes. 
They exceeded participation expectations with over 300 students attending the paint and sip during Welcome Week and attendance remained steady throughout the entire week's events according to Dr. Courtney.
As the week concluded, President Rochelle Ford hosted the University Convocation with the theme Embrace the Pivot: Excellence without Excuse where she emphasized "failing forward." The crowd let out gasps as Dr. Ford stated "I want you to fail because when you fail you learn. Pivot by failing forward."
She provided the students in attendance with motivating statements such as being their authentic self and being optimistic and knowing what their mission is at this point in their journey. Dr. Ford ended on a positive note, likening Dillard to a buffet saying, "Dillard is a buffet you pay for, don't leave here hungry."
With the third week of class underway, the Bleu Devils continue to show excitement about the school year. They filled Dent Hall for the Lady Bleu Devil Volleyball team's first home game against the Jaguars of Southern University of Baton Rouge on Aug. 29.