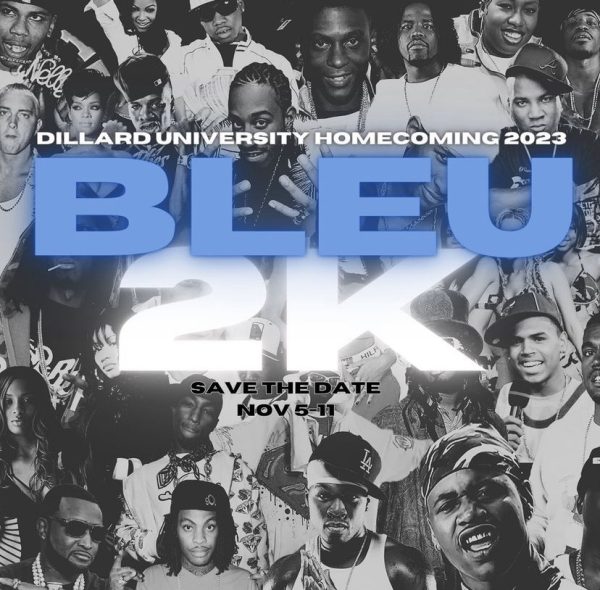 NEW ORLEANS (October, 19,2023) – After much anticipation, the Campus Programming Team announced this year's homecoming theme on Friday, Sept. 22, as Bleu 2K. 
"I better see y'all in y'all's Baby Phats, y'all's Apple Bottoms, and we're gonna have a spirit week so I better see y'all's Soulja Boys," said JaKala McGowan, the CPT president in anticipation of the upcoming event.
Homecoming will be taking place from Nov 5 through Nov 12. During homecoming week, CPT and Dillard University administration will be hosting events for students and alumni. There will be a Spirit Week accompanying the theme and activities planned for the duration of the week.
The Royal Court Coronation will take place during homecoming week, crowning the 88th Miss Dillard University, Trinity James, and the 18th Mister Dillard University, Tyler Finley. 
One of these events features singer, songwriter, author, Grammy Award winner, and member of Destiny's Child, Michelle Williams. She will be hosting a conversation about physical, mental, and spiritual health for both students and alumni alike. The event, Checking in With Michelle Williams will be held on Nov 10, and will take place from 10 a.m. to 11 a.m. in the Professional Schools Building in room 136.
The Homecoming parade and celebration will be held Saturday, Nov 11 with the festivities beginning at 11 a.m. and continuing until 7 p.m. The homecoming basketball games will be at 1 p.m. and 3:30 p.m. with the Lady Bleu Devils playing first and the men's game following them in Dent. The New Member Presentation will also be held in Dent at 8 p.m. 
For more information regarding the price of tickets for the homecoming events please be sure to follow the Dillard University instagram page.