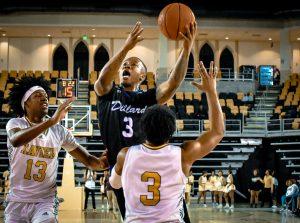 Dillard University faced off against Xavier University on Thursday, Jan. 19 in the long standing Crosstown Classic rivalry game.
After coming off a tough loss at home versus Wiley College, Dillard was looking to bounce back with a second win over Xavier University. However, this was not an easy game. Dillard lost the game after a controversial no-call
Kenyon Duling and Raheem Carter of the Bleu Devil basketball team, combined for 42 points versus Xavier University on Nov 21. 
With this being the second matchup between these teams, game planning was necessary on both sides of the ball to be successful. Xavier University is currently 6-1 at home, while the majority of the players on Dillard's roster have not played a game at Xavier Convocation Center. Although Xavier has the home court advantage, their student body has not begun moving in whereas Dillard has passed out 200 free tickets to their students, encouraging attendance. Xavier will not have the crowd control they are used to, but they still hold a slight advantage. 
After starting the game off slow and falling behind 31-16, Dillard's head coach, Joseph Price gave an emotional speech to the team during halftime. Following a last-minute comeback versus the Gold Nuggets, a controversial no call on a 3-point shot by Ty'Yohn Trimble ended regulation with a score of 66-63.
Kenyon Duling and Ty'Yohn Trimble combined for 30 points in the most recent match-up, and both played an instrumental part in the offense. Raheem Carter dominated the boards with 16 rebounds which allowed the Bleu Devils to close the gap in the fourth quarter.
This was the 76th matchup between the two programs with Xavier leading the rivalry 48-28. 
The Bleu Devils will be back in action on Monday, Jan. 30 against SUNO at 7 p.m.