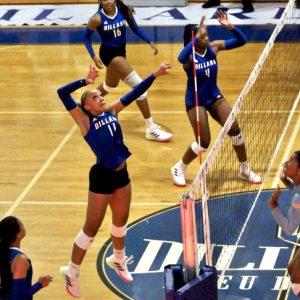 NEW ORLEANS (September 5,2023)– In a thrilling four set contest, the Lady Bleu Devils volleyball team cruised past the Lady Jaguars of Southern University on Aug. 29 to win their second game of the season with a new coach.
Dillard came out in the first set and got off to a hot start thanks to their two freshmen middleblockers. Gabrielle Washington, a freshman from Waxahachie, Texas and Cadence Thomas, a Georgia native, dominated and protected the middle to put Dillard up early. Costly mistakes committed by Southern in the first set, including five service errors, helped push the Lady Bleu Devils to a 25-22 set win.
In the second set, however, thanks to adjustments made by Southern's coaching staff in addition to the stellar play of Jordan Felix, a sophomore New Orleans native and Jasmine Okorafor, a junior Houston native, Southern was able to even the match at one set each.
Dillard faced trouble at the start of the third set, but once again the play of Washington and Thomas, combined with the defensive presence of Trenity Pender, a sophomore from Fort Worth, Texas, led the game with 72 digs for Dillard and junior Vanae Sapp, who contributed with 10 kills pulled off a comeback in the third set, to win 25-17 and take a 2-1 lead going into the fourth set.
The fourth and final set was all Dillard as senior and team captain Taylor Hurst led the way with 21 assists, setting up Sapp and others to attack and catch Southern off balance. The new, young talent off the bench for Dillard contributed in the final set as Jasmine Mumphery and Sarai Rogers brought intensity on the defensive end, holding the Lady Jaguars to just 19 points and sealing the Lady Bleu Devils' second win of the season with a 25-19 win in the fourth set.
Dr. Ashley Johnson was appointed as the new head coach of Dillard University's volleyball team in May 2023. In an interview with the university's communication office, Dr. Johnson shared that she was, "excited to step in and develop a championship culture."
Dr. Johnson shared her game expectations prior to the match stating, "I don't expect experience to be a factor in the game. We have the height, weight, speed and tempo advantage over Southern."
This win is important to Dillard, as it looks to be the springboard towards a deep run this season improving their record to 2-3, while Southern will start their season at 0-1. The Lady Bleu Devils continued their winning streak while in Jackson, Tennessee dominating their competition at the Dragon Classic Tournament. The Lady Bleu Devils will be back in action in Dent Hall on Sept. 8 at 1 p.m. against Oakwood University and again at 7 p.m. against Fisk University.